We have a singular and key focus. Creating a peaceful space of healing for all aspects of self…mental, emotional, physical, and spiritual.
We envision a space where each and every practitioner is compassionate, listens to the needs of the client, and works with the client to achieve optimal health and wellness, whether as an individual health care provider or in an integrative team approach of complimentary therapy. We take pride in an environment where clients can come and treat all aspects of the self, through massage therapy, chiropractic, naturopathy, nutrition, acupuncture, orthotics, health workshops, energy healing and other natural therapies.
Our diverse team of practitioners are continually researching new advances in natural health care and pursue a path of personal and professional development.
Review our services, book an appointment, or contact us to start on your path to wellness and health!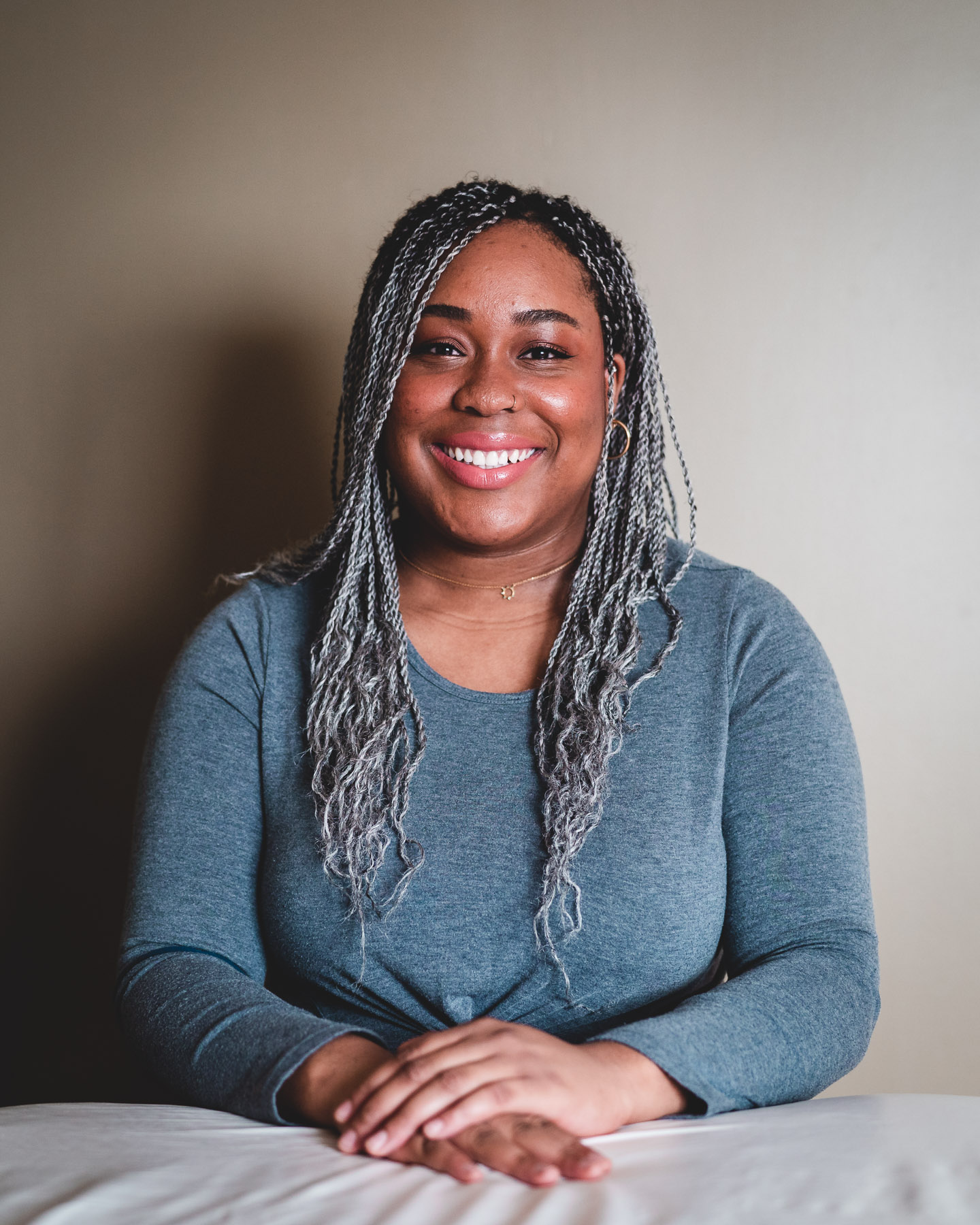 Safera Green
RMT
Registered Massage Therapist/Aspiring Water Bender/Disciplined Daydreamer
[She/Her]
Ever since I can remember, I've been focused on helping others. My massage therapy practice embodies this virtue, creating a warm and welcoming atmosphere while providing client focused treatments to ensure the best possible experience for clients from all walks of life.
I first found my passion for massage therapy when I received treatment from a registered massage therapist. I was amazed at how good my body felt afterwards and how much it helped heal me. Since then, I knew that this was the path I wanted to follow. I want to help others attain the same joyful and healing experiences that I did.
Outside of the clinic, I enjoy long walks exploring new places, checking off a movie from my long watch list, gaming and cracking up with my friends and family.
AREAS OF FOCUS:
Chronic pain, stress related conditions, relaxation, repetitive use injuries
TECHNIQUES: 
Swedish massage, trigger point therapy, myofascial release, deep tissue massage, prenatal massage
SCHEDULE:
Monday 11:00am – 5:00pm
Tuesday 12:30pm – 7:00pm
Wednesday 12:30pm – 7:00pm
Thursday 11:00am – 5:00pm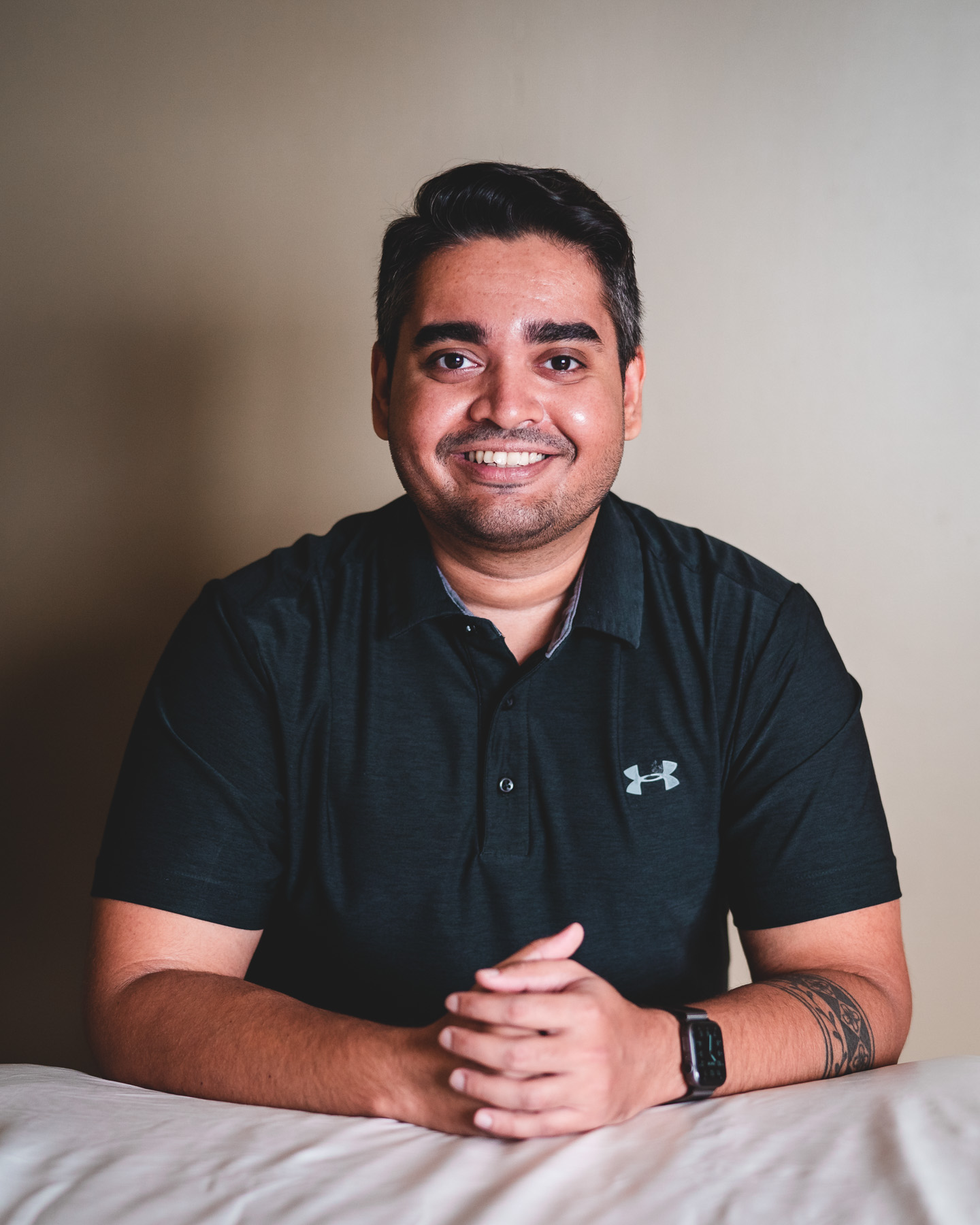 Shamit Tushakiran
RMT
Registered Massage Therapist/Outdoor Enthusiast/Sci-Fi Lover
[He/Him]
My interest in the body and its manifestations of pain developed in my years as a yoga teacher right here in Ottawa. Working with groups that included varsity athletes, desk workers, pregnant women, and seniors, I recognized that every person has their own relationship with pain, and an equally unique path out of that pain.
My evolving philosophy of care emphasizes effective communication with the client, their body, and their nervous system. I believe pain can be an incredibly disruptive force that makes the littlest activities less enjoyable, and the most fruitful way to work past it is to give your nervous system the information it needs to begin addressing those pain signals.
Whether your ideal day involves an intense spin class, gardening, or reading a good book by a lakeside, my goal is always to enable you to enjoy those activities free from pain or discomfort. And if you're just looking to zone out on the table in silence and forget about life for a little while, I would love to provide that space for you – so don't hesitate to ask.
When I'm not in the clinic, I like to unwind by doing group workouts, playing video games, pretending to be a restaurant critic, and having incredibly nerdy discussions about the latest pop culture movie or TV show.
AREAS OF FOCUS:
Chronic pain, stress management, relaxation, headaches, scar tissue mobilization, TMJ dysfunction
TECHNIQUES: 
Swedish massage, therapeutic massage, myofascial and connective tissue techniques, lymphatic drainage
SCHEDULE:
Tuesday 11:00am – 5:00pm
Wednesday 11:00am – 5:00pm
Friday 11:00am – 5:00pm
Saturday 10:00am – 3:00pm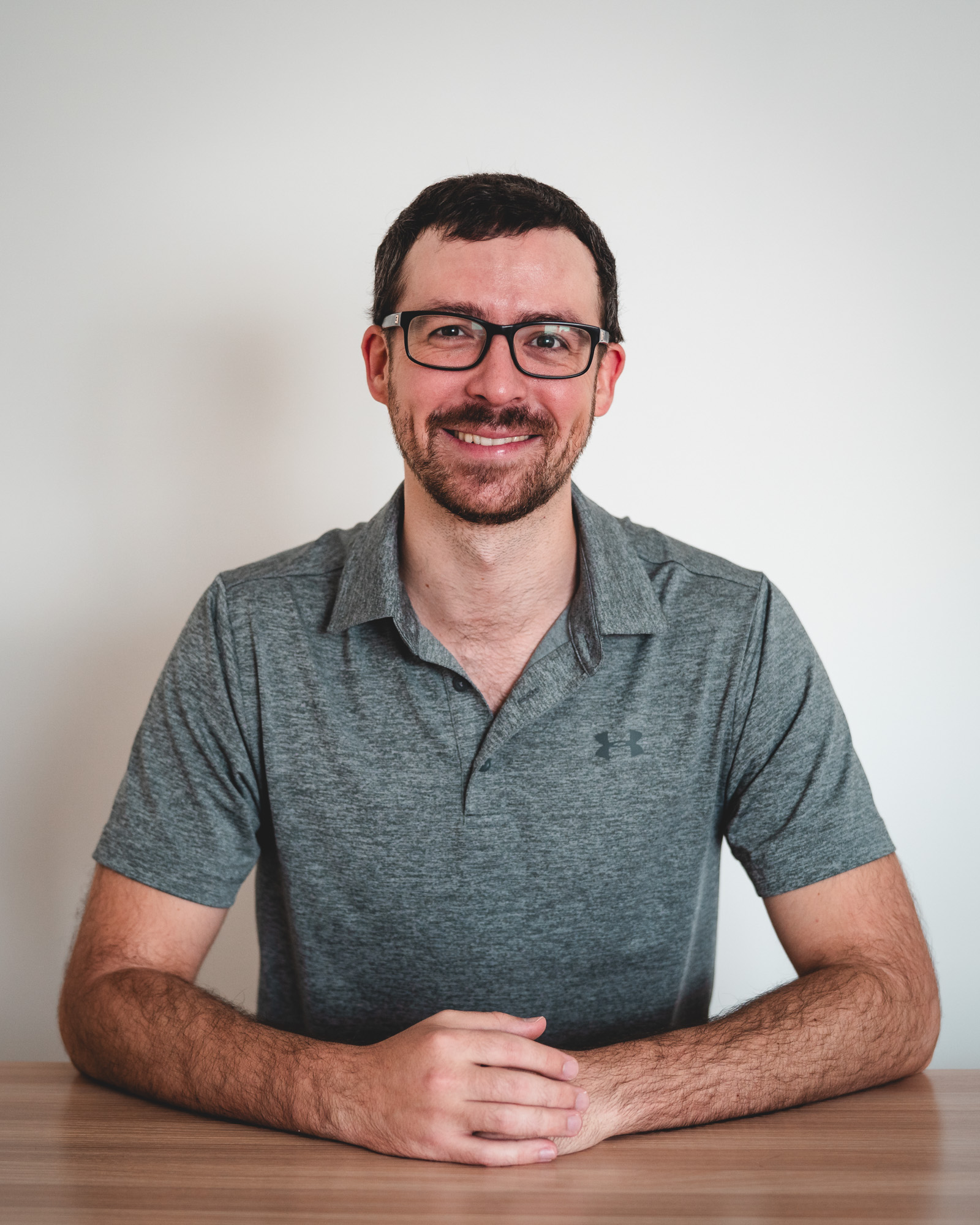 Taylor Timmermans
RMT
Registered Massage Therapist/Cat Dad/Gamer/Recreational Cyclist
[He/Him]
Ever since I was young, I always loved teaching and helping people. That desire came to fruition during my years of swim instructing and personal training. As I continued to work with more diverse groups and different demographics, I came to understand that each person's path to wellness is unique to their circumstance. Through this, I developed a greater appreciation for open communication and personalized approaches. I believe that everyone can reach a healthy balance through self-care, determination, and proper guidance. The focus of my massage therapy practice is to help you achieve that balance regardless of what walk of life you are from. 
I understand that small aches and pains can evolve into much bigger and more distracting issues. My practice philosophy has always emphasized on finding the root cause of that pain so we can tackle the problem from the source. Whether you are busy at the office, on the go with family, training for a sports competition or simply want to be able to move and bend like you used to, my goal will always be to make sure you can continue on with those activities as functionally and pain-free as possible. 
Outside of the clinic, I enjoy cycling, resistance exercise and playing video games while attempting to be a Cordon Bleu chef at home. I love chatting about physical fitness and have a passion for motivating people to get moving.
AREAS OF FOCUS:
Chronic pain, repetitive use injuries, strains and sprains, fascial mobilization, relaxation, TMJ, injury prevention, trigger point treatment, scoliosis treatment.
TECHNIQUES: 
Myofascial and connective tissue techniques, remedial exercise, Lymphatic drainage, active and passive stretching, neuromuscular techniques, diaphragmatic breathing.
SCHEDULE:
Monday 11:00am – 5:00pm
Thursday 11:00am – 5:00pm

Jason Epps
RMT
Registered Massage Therapist/Monty Python Fanatic/Sci-Fi Nerd
[He/Him]
Everybody has a different story when it comes to pain or tension and I love working with you to find the right solution that will address your unique needs.
I enjoy the good things life has to offer and I want my clients to be able to do the same. Food is high on my list of interests, as are science-fiction and games. In fact, I always look forward to Sage's Christmas parties and I can quote almost all of Spaceballs and a decent amount of Monty Python. 
Put simply, I like to have fun and, in many ways, Sage is a space that represents who I am. Therapists are held to the highest standards of professionalism while having the freedom to be who they are and letting loose every once in a while.   
Clients appreciate my honesty and my capacity to listen knowing I will be there to support them in the long term. Ultimately, I want them to be satisfied with the solution put forward and I take great pride in witnessing their evolution.
AREAS OF FOCUS: 
TMJ dysfunction (jaw), headache-related pain, frozen shoulder, carpal tunnel syndrome, hip/foot pain, trigger points, repetitive strain injury, sciatica
TECHNIQUES: 
Deep tissue, myofascial or trigger point release, neuromuscular technique, proprioceptive neuromuscular facilitation, lymphatic drainage, joint mobilizations
SCHEDULE:
Tuesday 3:00 – 8:00pm
Wednesday 12:00 – 5:00pm
Thursday 12:00 – 5:00pm
Friday 12:00 – 5:00pm
Saturdays 11:00am – 3:00pm
Eric Paquin
RMT
Registered Massage Therapist/Fine Cook/Elephant Lover
[He/Him]
I'm a meticulous and attentive massage therapist. I achieve this by maintaining open communications with clients, providing a personalized approach to address varying levels of sensitivity or therapeutic requirements. Nothing makes me happier than to see I'm actually helping alleviate people's pain and discomfort and improving their overall quality of life.
When working with clients, I focus on the end goal, which requires patience and determination. Making people feel more comfortable and mobile in the short term is good but working towards the long term brings me even greater satisfaction.
I enjoy running, cycling, visual arts and music, and am pretty creative in the kitchen, having worked in the food industry. I'm fond of elephants for their hunger and playfulness and my favorite color is green, which is a color thought to strike a balance between the head and the heart. 
I have a lot of respect for my fellow therapists at Sage who maintain high professional standards, allowing us to go above and beyond for our clientele. They say that home is where the heart is…
AREAS OF FOCUS: 
Sprains, strains & spasms, upper & lower cross syndrome, hip/low back/shoulder pain, tension headaches
TECHNIQUES: 
Deep tissue, Swedish, connective tissue release, lymphatic drainage, myofascial techniques, trigger point therapy, stretching and muscle facilitation
SCHEDULE: 
Monday 11:00am – 5:00pm
Tuesday 3:00 – 8:00pm
Wednesday 3:00 – 8:00pm
Thursday 11:00am – 5:00pm
Friday 11:00am – 5:00pm
Teresa McLean
RMT
Founder/RMT & Reiki Master/Podcast Enthusiast/Artist
[She/Her]
Please note that Teresa is currently not accepting new clients. (August 2022)
As a mom with a bustling practice, I understand how a hectic lifestyle can make self-care seem like work. But my 20+ years of massage therapy experience working with a broad spectrum of humans has taught me how crucial it is to respect and listen to our bodies, while healing my own trauma has become my super power in helping others heal. 
Clients entering my room know they have my full and non-judgemental presence and are invited to leave everything at the door so they can just 'be'. I take pride in providing a safe, inclusive treatment space, and I'm told I have a soothing demeanour that automatically makes people feel more relaxed. 
Being a yogi, Reiki Master and regular meditator, I have a holistic, "complete being" approach, which is how I help clients connect their thoughts and emotions to their physical state.
People are sometimes surprised to find out that I love a good dose of action. Whether at a live happening or on the sideline of my son's sporting event, you're sure to find me at some point bursting and shouting at the top of my lungs! And when the words fail me, art is my go-to to express myself.
AREAS OF FOCUS:
Headache/neck/back/hip pain, stress management and emotional overwhelm, nervous system regulation
TECHNIQUES: 
Swedish massage, Reiki, myofascial work, cranio-sacral techniques, mindfulness, meditation, trauma informed care
SCHEDULE:
Wednesday 4:00 – 8:00pm
Saturday 10:00am – 2:15pm
Rossana Rebeccani
RMT
Registered Massage Therapist/Information Junkie/Wanna-Be Artist
[They/Them]
"I am on sabbatical until the fall of 2024. Please ask the desk about the therapist who would best suit your wellness goals. Thank you for your understanding and support. I wish everyone a healthy restorative year." (April 2023)
I believe that everyone is the expert of their own lives and bodies. My goal is to bring my clients to feel empowered in continuing their own self care and health journey. Together, we work as a team to achieve their goals in wellness. 
I am an RMT with a BA in Sociology. I have worked with people living with trauma, doing crisis counseling, and I have a strong interest in the relationship between mind and body. I believe in holding space where judgment doesn't exist, where empathy and compassion prevail. I open my ears and my heart to people, understanding that talk therapy is not always the answer and that the sense of touch can be very powerful.
I'm an information junkie and am constantly learning and educating myself; I've trained in TMJ work, pelvic issues and many other subjects. I'm also particularly fond of health and social justice-related books. In fact, I feel strongly about calm, peacefulness and happiness but not at the cost of social justice. 
AREAS OF FOCUS: 
TMJ, sciatica, tendonitis, stress and pain management, sports injury, palliative care, headache, spasm & strains
TECHNIQUES: 
Therapeutic massage, relaxation massage, pre and post natal massage
SCHEDULE:
Wednesday 12:30 – 4:30
Thursday 12:30 – 4:30
Dr. Chadwick Shank
DC, RMT
Chiropractor/RMT/Peanut Butter Lover/Daredevil Dad
[He/Him]
Your body has this amazing ability to heal itself and I believe that it holds the key to your best health – no matter your age!
As a chiropractor and registered massage therapist with 20 years of experience, I approach my work in a very holistic way. My goal is to understand the source of your specific pain or limitation and help you move forward though education, self care and supportive treatments.
My philosophy is one of open communication. Ultimately, I want to empower people, whether they want to ease their pain, move more freely, change their lifestyle or age well. But my support and advice is as good as them carrying it forward.  
In my book, breathing can solve pretty much anything, which I apply in my "job" as a dad of two very active kids, my daily runs and my yoga practice. I love the color blue as it relates to calm and serenity. And if you see me at Sage, there's a good chance you'll catch me eating peanut butter – I love it!
AREAS OF FOCUS:
MVA claims, stress, athletic performance, acute injury rehabilitation, chronic pain management 
TECHNIQUES:
Chiropractic, education, home care, orthotics, soft tissue massage, Swedish massage, deep tissue, prenatal, myofascial
SCHEDULE: 
Tuesday 12:00pm – 8:00pm
Wednesday 12:00pm – 8:00pm
Phoebe Mathews
CAT(C), R.Kin
Certified Athletic Therapist/Kinesiologist/Jock/Dog Mom
[She/Her]
I grew up playing sports, which led me to where I am today. With an Undergrad in Kinesiology and a Diploma in Athletic Therapy (I'm also studying Manual Osteopathy!), my goal is to assist athletes and non-athletes in reaching their highest level of activity. 
Over the years, I've worked with numerous high-level athletes. I've been involved in pretty much every sport, including wrestling and Aussie rules football! I get to help people while watching sports on the sidelines – it's a win-win! What can I say, I'm a huge jock!
I see my relationship with clients as a partnership where we work together in understanding and managing their pain and injury. The recovery process is much easier when you comprehend why you are in pain. I tend to use a combination of deep tissue release as well as gentle techniques to help with realignment. 
I've got tons of energy, which might explain why I'm amazed with goats' ability to climb mountains. Sage is an accepting and welcoming space where I feel good and which I really enjoy.
AREAS OF FOCUS: 
Lower back/neck pain, post-surgery performance, overuse/repetitive motion pain, recovery & rehabilitation 
TECHNIQUES: 
Soft tissue release, joint mobilization, muscle energy technique, craniosacral, pre and post operative, cupping, therapeutic ultrasound, sport taping and bracing
SCHEDULE:
Monday 11:00am – 5:00pm
Tuesday 3:00 – 8:00pm
Thursday 11:00am – 6:00pm
Friday 10:00am – 4:00pm
Lailee Mussivand
RAc
Registered Acupuncturist/Painter/Napper 
[She/Her]
As a classically-trained Acupuncturist, I provide evidence-based medical acupuncture and Traditional Chinese Medicine (TCM) treatments for all non-emergency conditions. Having interned at the Taiwan International Medical Training Clinic, I learned from the best, mixing Eastern and Western traditions.  
My job is to tap into the body's own healing capacityt. I use a variety of mind and body techniques and often incorporate lifestyle recommendations and education for home care.
Many people are afraid of needles but patients of mine are often surprised how comfortable and relaxed they feel during a treatment. As a gentle, compassionate person, I make sure they feel at ease and they know they are safe with me as I am a skilled technician who only uses the highest grade of needles.
I love that Sage promotes equality for all and that the practitioners are a perfect combination of professional and silly – just like me! I can be nerdy but also like to goof around with my toddler.
Ce sera un plaisir de vous servir en français, que je comprends assez bien. J'aimerais avoir plus d'occasions de le pratiquer!
AREAS OF FOCUS:
Reproductive health, back/neck/joint pain, migraine & headaches, insomnia & depression, and much more
TECHNIQUES:
Acupuncture, electro-stim, infrared heat, fire cupping,therapeutic movement, gua sha, tuina, ear seeds, moxa, TCM nutritional therapy, meditation, tongue & pulse diagnosis, etc.
SCHEDULE:
Monday 10:30am – 2:00pm *Summer Hours: 12-3:30pm*
Wednesday 10:30am – 2:00pm *Summer Hours: 12-3:30pm*
Friday 10:30am – 2:00pm *Summer Hours: 12-3:30pm*
Saturdays 10:30am – 2:45pm
Carolyn Smith
DOMP
Manual Osteopath/Golfer/Loons Devotee
[She/Her]
For the longest time, I knew I wanted to work as a manual therapist. I just didn't know what sort exactly. It was only when I discovered manual osteopathy that I knew it was the specialty for me – the approach to treatment just felt right. After completing a Bachelor's in Human Kinetics, I eventually went on to complete a Diploma in Osteopathic Manual Practice.
I help people get to the bottom of their pain by using a gentle, holistic approach. Through the healing power of my hands, I act as a facilitator in my client's journey to better health.
I try to communicate my passion for anatomy to my clients by sharing useful advice so they can better understand their unique situation. Whether they are dealing with an injury, stress or chronic pain, I strive to make their experience as relaxing, comfortable and accessible as possible.
I'm also a big fan of loons! I just love the outdoors and their call never fails to remind me of summers at the lake. I've even named my Jeep after one!
AREAS OF FOCUS:
neck/head/back/shoulder/TMJ pain, therapeutic stress management 
TECHNIQUES: 
Joint mobilization, soft tissue therapy, muscle energy techniques, cranial osteopathy, visceral manipulation, therapeutic ultrasound and cupping
SCHEDULE:
Monday 11:00 – 5:15
Wednesday 1:00 – 7:00pm
Alternating Saturdays 10:30am – 3:00pm
Qasim Sadiq
DOMP
Manual Osteopath/Fishing Enthusiast/Music Devotee
[He/Him]
As a long-time footballer, I've suffered many injuries and sought help in many places. It was only when I was referred to an osteopath that my pain started to go away. 
Fortunately for me, the practitioner was a graduate of the National Academy of Osteopathy – the same institution, where I eventually graduated. After two weeks of treatments and at-home stretching, I was fully recovered. This osteopath was the one who convinced me to pursue manual osteopathy as a career. 
Although the discovery of the discipline came as a revelation, I strongly believe that we are our most precious ally. I provide the tools and the knowledge while the rest is completely up to you. This being said, I know it's not easy. Life has taught me that empathy can go a long way when seeking to make long-lasting changes. 
In my personal life, I practice what I preach but I don't take myself too seriously. In addition to being an urban poling master trainer and practicing sports (football, basketball and soccer), I love vintage cars and sports cars.
*For religious reasons I only work with male clients.
AREAS OF FOCUS:
Musculo-skeletal injuries, post-surgical conditions, strength, posture, flexibility, overall physical wellness 
TECHNIQUES: 
Manual palpation, musculo-skeletal joint mobilisation, muscle energy techniques (MET), soft tissue therapy
SCHEDULE:
Tuesday 11:00am – 5:00pm
Friday 11:00am – 5:00pm
Alternating Saturdays 10:00am – 3:00pm
Susan Yungblut
PT
Physiotherapist/Nordic Walking Master/Guitar Player
[She/Her]
As a long-time physiotherapist, my role is to help people discover the strength and motivation within themselves to improve their health and quality of life. 
Truth is, you are the one best suited to help yourself. I act as the advisor who provides the tools and the knowledge – the rest is up to you. This being said, I'm a compassionate listener and I know it's not easy. A life of experience has taught me that empathy can play a big role in making long-lasting changes. 
I offer individualized treatment for people with musculo-skeletal injuries and post-surgical conditions, or those who want to improve their activity level, strength, posture or flexibility.
I chose this career because I love people and want to help them play an active role in their health. I practice what I preach but I don't take myself too seriously. In addition to being an urban poling master trainer and practicing many sports, I play the guitar, sing and love to have a good laugh.
AREAS OF FOCUS:
Injuries, active living & physical health, ergonomics & posture, post surgery & trauma, lymphedema and lipedema
TECHNIQUES: 
Education and active care, Nordic walking instruction, manual lymphatic drainage (MLD), compression advice & wrapping, manual therapy
SCHEDULE:
Tuesday 12:00pm – 5:00pm
Thursdays 12:00pm-5:00pm
Dr. Sarah Kristolaitis
ND
Naturopathic Doctor/Hunter/Avid YouTube Consumer
[She/Her]
I'm all about getting back to basics because there's one issue that affects us all in some shape or form in this day and age: stress. Add an unhealthy diet, lack of movement and sleepless nights to the mix, and you get the full picture.
Unfortunately, conventional medicine hasn't quite figured out a proper solution to address this ailment that affects our society and many come to me after having sought treatment elsewhere, without result.
Everyone is different. I always consider alternative explanations, a result of my analytic and curious nature. With me, no stones are left unturned. In fact, I'm always learning something new, consuming a whole lot of YouTube videos along the way!
I'm a geek at heart, having graduated in Genetics and Biochemistry before turning to Naturopathic Medicine when I realized I wanted to truly help people without losing the spark before the end of my career. 
Outside of the clinic, I can be found playing the flute, rock climbing, reading and gardening. Being from Northern Ontario, hunting is also part of who I am. 
AREAS OF FOCUS:
Proactive general health screening, complex case assessment, digestive health, autoimmunity, fatigue, mental health, etc.
TECHNIQUES:
Lifestyle modification and coaching, blood work and other laboratory testing, herbal medicine, supplements, stress management, etc.
SCHEDULE:
Tuesday 5:30 – 7:00pm by Phone or Video
Thursdays 5:30 – 7:00pm by Phone or Video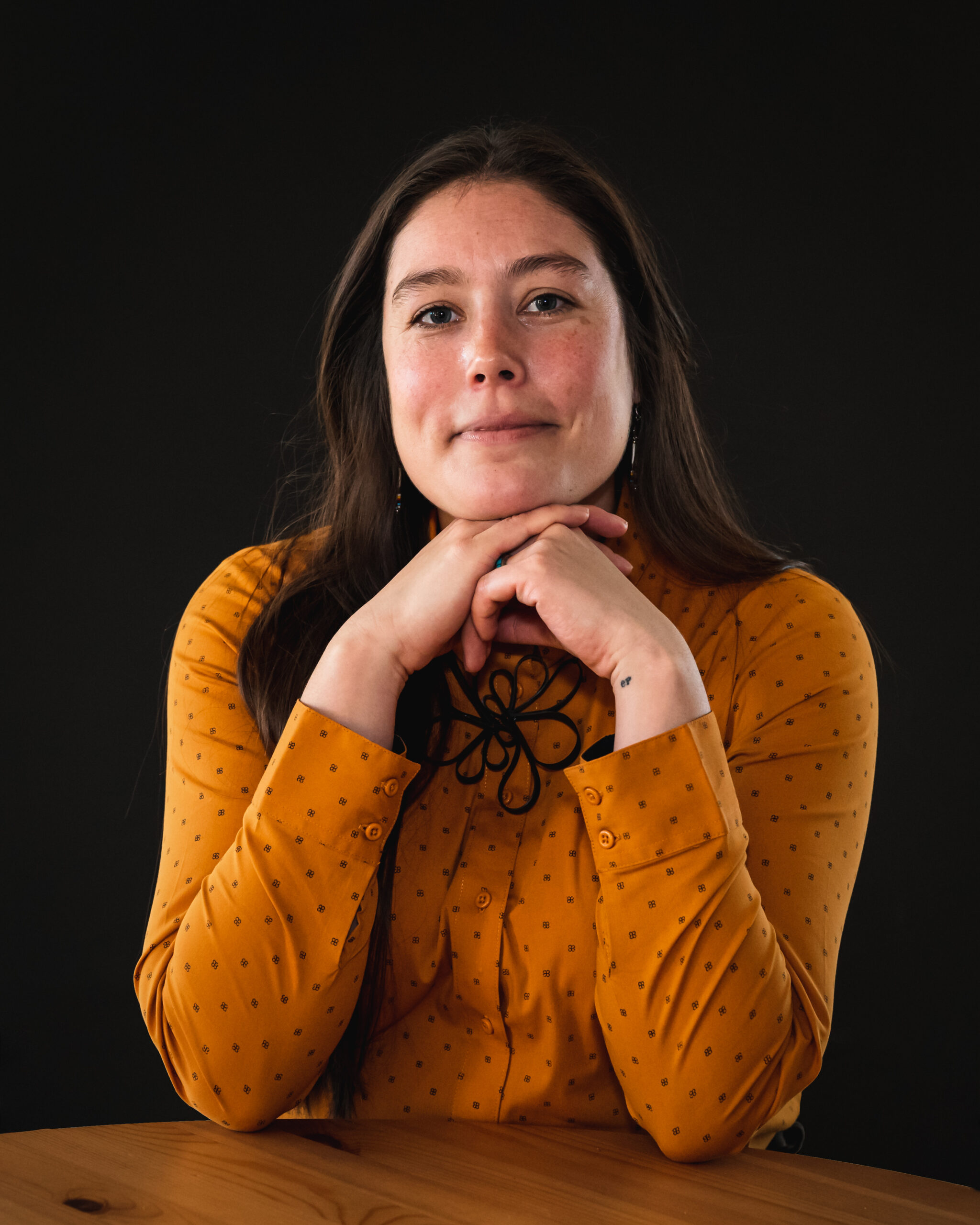 Jillian Maracle
Owner/Operator
Owner/Dog Lover/Visual Artist
[She/Her]
I love Ottawa. I love how easy it is to get around the city on a bicycle three seasons of the year, how close a hike can be, and the amount of green space we have. I think the canal is the perfect spot for a jog, or a walk with friends, and even the odd skate in the winter. I am a visual artist, and you might have even seen some of my art hanging on the walls in a few treatment rooms. I have a deep deep(!) love of dogs and am constantly wondering what we did to deserve them.
Teresa brought me in many moons ago, all hard edges and efficiency from working as a server and bartender. She helped me develop my skills running this business and has shown me that being good in this industry isn't about being competitive and pushy. That compassion and empathy can take you even further. There is enough space of all of us, and if we work together supporting one another, we will be the best we can be. It is these teachings I am taking with me.
I am so thankful for this opportunity to continue creating a safe and inclusive space for EVERY BODY.